Kenneth Feldman – Owner, Lead Project Developer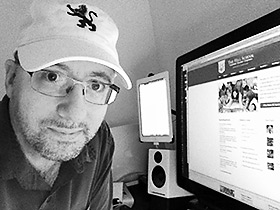 Kenneth has personally built and launched over 200 websites for a wide range of clients; he's created successful websites for independent musicians, book authors, scientists, bakers, yoga centers, performance arts, private schools, university programs, and many more individual and small businesses.
Kenneth was responsible for creating the high-speed, secure web hosting services division of KPFdigital, where we host most of our clients' websites on our optimized dedicated server.
Besides being the owner/operator of KPFdigital Creative Internet Services, Kenneth's credentials include being a co-founder of IndieKazoo.com, the on-line service for independent music sales; he blogs semi-regularly at TheoreticalKen.com; and he's a professional photographer whose experience ranges from the fashion tents of Seventh on Sixth to being a creative store decor photographer for Whole Foods Markets.
Specialties: User Experience, Web Performance, Search Optimization, Digital Photography/Editing, Print and Graphic Design, CSS/XHTML
Samara Taylor – Strategic Copywriting
You know your business better than anyone. You know what it is, how it works, and why it's important, necessary, and special. But because you're "in it," sometimes it can be hard to see it from the outside. You've got the details, but how do you communicate the bigger picture to potential clients so they "get it" immediately? And how do you express it not only with clarity, but also with feeling, so you inspire people to take action?
My job is to help you capture in clear and compelling language the essence of your business – who you are, what you do, and why. Together we'll shine light on the deep value of what you offer so your prospective clients say, "Yes! You're talking to me – this is exactly what I'm looking for."
Do you need help uncovering or crafting your message?
The good news is that you don't need to make it up: it's already there. It's so deeply a part of what you do that you might not even see it, or know how to put it into words.
In listening to you and learning about what you do, I will help you recognize and refine your unique and authentic voice so you can tell the bigger story of your business, in addition to the details.
When your message rings true, people trust who you are, and know you can deliver. The next step is natural: they'll pick up the phone, send you an email, press "add to cart," or do whatever it takes to work with you.
Let's tell your big story.