Kenneth Feldman – Owner, Lead Project Developer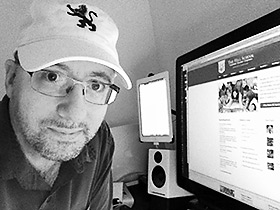 Kenneth has personally built and launched over 200 websites for a wide range of clients; he's created successful websites for independent musicians, book authors, scientists, bakers, yoga centers, performance arts, private schools, university programs, and many more individual and small businesses.
Kenneth was responsible for creating the high-speed, secure web hosting services division of KPFdigital, where we host most of our clients' websites on our optimized dedicated server.
Besides being the owner/operator of KPFdigital Creative Internet Services, Kenneth's credentials include being a co-founder of IndieKazoo.com, the on-line service for independent music sales; he blogs semi-regularly at TheoreticalKen.com; and he's a professional photographer whose experience ranges from the fashion tents of Seventh on Sixth to being a creative store decor photographer for Whole Foods Markets.
Specialties: User Experience, Web Performance, Search Optimization, Digital Photography/Editing, Print and Graphic Design, CSS/XHTML
KPFdigital Teammates
Ellen Azorin – Strategic Writing and Branding
ELLEN AZORIN is a former advertising copywriter and creative director whose many awards have included The One Show, Art Directors Club, Andy and Clio Awards, and finalist honors in the International Film and TV Festival of New York and the Stephen E. Kelly Award Competition.
She worked for many years at top agencies — the last nine years at Ogilvy Worldwide — specializing in brand personality and new product development for clients like Pond's skincare, L'Oreal hair products, Crest toothpaste, Cuisinarts kitchen products, Ralph Lauren, Martex home furnishings, Melitta coffee products, and numerous brands for Proctor & Gamble, Kimberly-Clark, and Chesebrough Ponds.
She left to devote herself to her own writing, and continues to do freelance creative consulting, helping web clients to develop text that expresses their brand personality, while understanding the special requirements of web writing.
Michael Kroll – Visual Designer
Michael has a thing for Great White Sharks. When he was five, his parents took him to see Jaws at a local drive-in theatre. To this day he does not sleep with his arms or legs dangling over the edge of his bed.
He brings this same supernormal and imaginative passion to his work. Michael has the intuitive ability to clearly communicate concepts, ideas, energy and personality through his visual design.
Michael has a user-centric approach to design, exceptional visual design skills, and a keen sensibility for color, typography, composition, and a gifted eye for detail. His visual intuitiveness allows him to strike the perfect balance between form and function. Michael's aesthetic is guided by restraint and simplicity.
His work elegantly speaks out for a wide range of individuals and organizations; from Fortune 500 companies to not-for-profit agencies to musicians and performing artists.
Michael is the founder of Sheep in Disguise, his new media design studio in Carmel, California. Prior to opening his studio, he was Creative Director at ManyOne Networks and the Creative Director at Zazengo.
Michael has a Bachelors of Fine Arts in Computer Arts from the Academy of Art College in San Francisco. He also holds a Bachelor of Arts in Film Production from Columbia College Chicago.